Streamers Digest #4: Fruity Slots, Chipmonkz, Casino Army etc.
As is always the case, last week was filled with both winnings and losses for gamblers. Many streamers tried their luck and made wagers, but the outcome was not as good as expected. Nevertheless, some of them demonstrated fascinating games and experienced very powerful emotions.
If you missed out on it, here's our review of the most outstanding events that are entirely worth your attention. Emotions running high, amazing gaming experience, and the streamers' great desire to win attracted a large number of viewers to the streams.
Five Big Deals of the Week
Here are the 5 major gambling events of the week sorted by views for convenience. Each of them includes a quick summary of the stream and a link for you to see how exciting it was.
1. Amazing €1,768.80 Win in Bonus Buy Wednesdays Feat. Viewers with Jamie (Episode 7)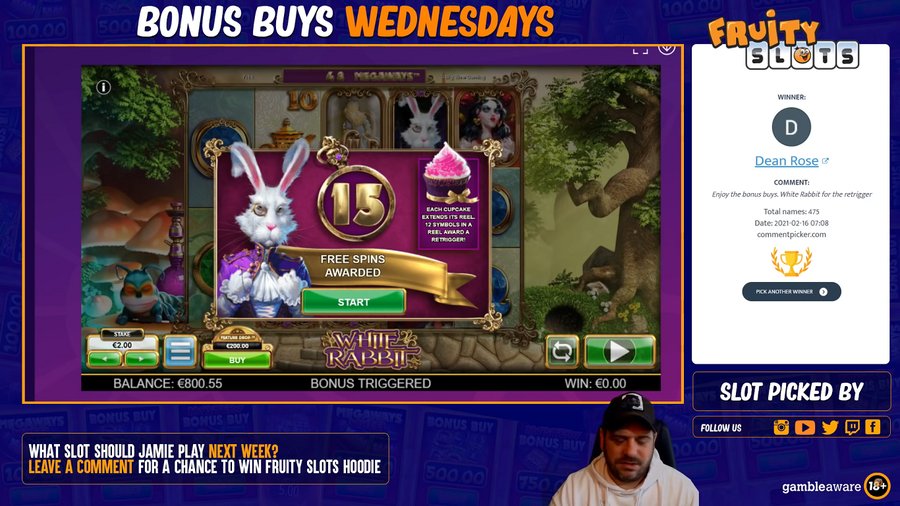 One of the most expected streams by Fruity Slots hosted by Jamie made several gamblers nervous this week. Following the rules, the biggest "X" win of the episode is considered to be the winner.
Jamie randomly selected 20 viewers who were leaving their comments to the stream.
In each case, the slot game was chosen by the viewer. Among the preferable games, there were The Dog House Megaways, Iron Bank, Safari Gold Megaways, Return of Kong Megaways and others.
Mostly, the wins were below or slightly above 100X, which is quite modest. Such players could not count on winning.
Two of them, however, competed for the main prize: Blake Breezy with the 850X win on the Iron Bank on the 6th minute of the episode and Miranda N with the 884X win on the Dog House Megaways on the 32nd minute.
The outcome was unpredictable during the game. Yet Miranda N managed to win €1,768.80 in 7 spins and became the ultimate winner of the episode.
Video: BONUS BUY WEDNESDAYS FEAT. VIEWERS! Episode #7
2. Big Winnings on Slot Games with Chipmonkz Slots' Chip and Jordan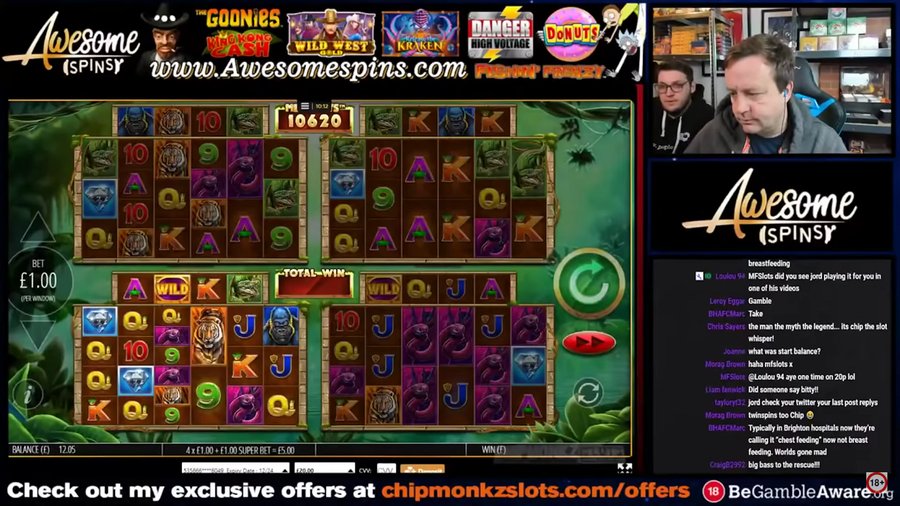 Another fascinating stream by Chipmonkz Slots enables you to experience different emotions. Chip and Jordan had their ups and downs during the game. 
They started with a £3,000 deposit and played numerous slot games with high stakes, such as Big Money Frenzy, Genie Jackpots, Big Bass Bonanza, Sweet Bonanza.
At one point, they practically lost their entire deposit. However, there were several big wins as well. They got the huge £2,000.35 win at Big Money Frenzy first. Later on, when there was a little over £20 left, the amount was increased due to the Genie Jackpots slot up to £447.85. Besides, several successful combos providing additional free spins and big, mega, or epic wins added over £1,175 in total.
Video: *wowow* BIG WIN on ______ SLOT (high stakes)
3. An Impressive Win at Lightening Baccarat with Kim and Blanco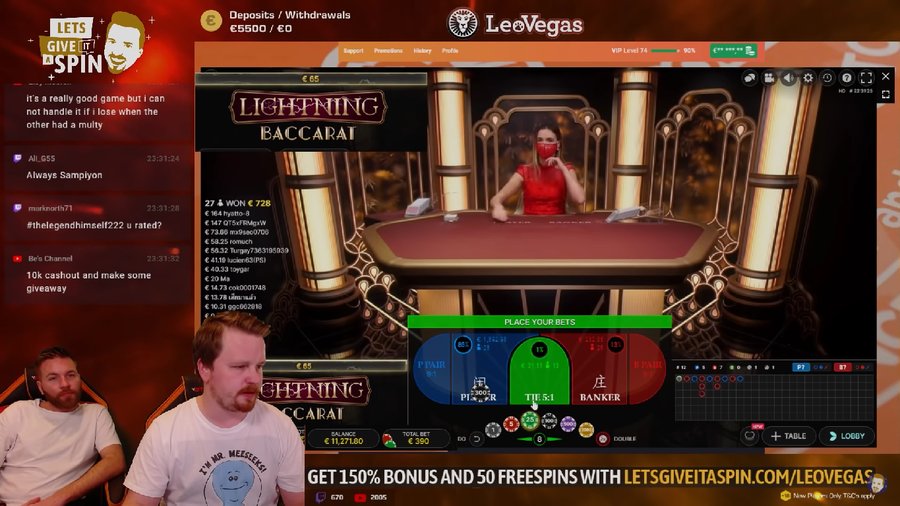 A short stream version of Kim and Blanco's Lightning Baccarat provided by LetsGiveItASpin Casino Streamer demonstrates all the best highlights of the game.
They did not see the big win coming in the first place. Starting with almost €6,650 Kim and Blanco were placing different wagers and discussing the strategy. 
During the game, they faced several losses, but along with that, they received numerous winnings practically in a row. Some of the wins were relatively small, within €500. Others, in contrast, were outstanding. For instance, there were two huge wins, €6,300 and €4,050.
By the end of the session, the initial amount was almost tripled. The total sum was €17,998,60. Nice catch!
Video: BIG PROFIT Lightning Baccarat Session
4. The Dragon Horn Big Win with Blanco
Here is one more Blanco's stream by LetsGiveItASpin Casino Streamer. Blanco decided to give Dragon Horn slot another shot, but without a doubt, he did not expect the big win.
He started slowly with a total of €300, and within the first minute, he got his first big win of €200 and additional free spins. Afterward, he had a series of lucky combos delivering big wins of €280 and €480. Moreover, he got a breathtaking €840 mega win and an unforgettable €2,400 ultra-win.
In general, it is remarkable that Blanco managed to increase his profit up to €4,755.
Video: Our Biggest Win on Dragon Horn! (€10 Bet)
5. Slots Delivering a Big Win by Casino Army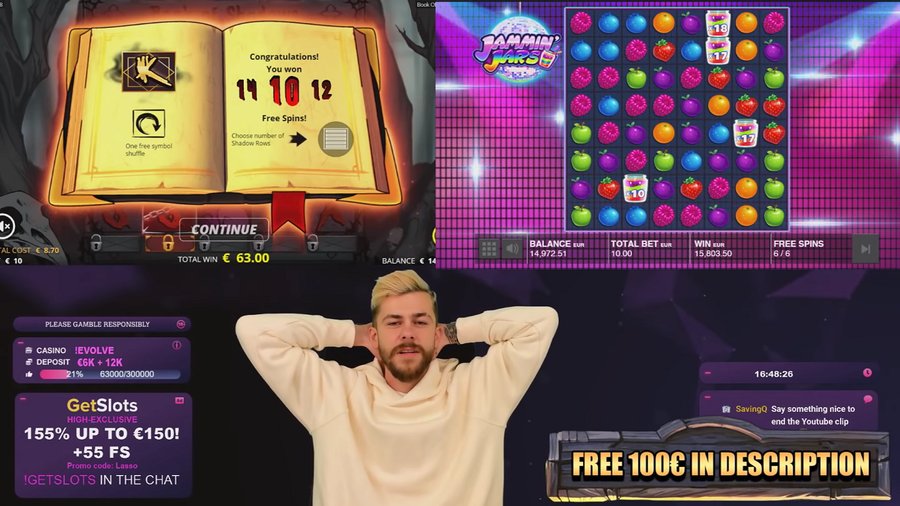 An exciting stream by Casino Army shows several record wins of the week. It consists of remarkable game cuts with the biggest wins. 
9 streamers appearing in the video have tried their luck this week and got an amazing outcome! Their emotions are over the edge, and their wins are fantastic:
Profits like this are truly amazing.
Video: CRAZY MONSTER BIG WIN x35.000 on San Quentin Slot - Records Wins Of The Week
Additional Events Worth Your Attention
As a pleasant bonus, here is a short review of three more memorable and fun gambles.
An Impressive £500 Win with Jimmy
In the new stream by Jimbo Casino, you can find Jimmy hitting several slot games that bring him meaningful gains. Picking up Coast to Coast, Tombstone, Chaos Crew, Bonanza, Deadwood, and Rome the Golden Age provided a series of juicy combos and almost up to £500 win. However, he lost it all eventually on the last game, the Lightning Roulette.
Video: Speedy £500 Bonus Hunt with Jimmy!
A €50000 Bonus Buy on Fruit Party Slots with Georgi and Joe
ClassyBeef's new stream introduces players spending €50,000 on bonus buy and earning €34,150 in 10 free spins by the end of the game. The game was very tense. After several attempts in a row, however, they practically lost all of it.
Video: €50.000 BONUS BUY on FRUIT PARTY Online Slots
Huge Profit on Lightning Roulette by Ticket Time
Ticket Time shared a stream of several pleasant wins in a row, including an outstanding 500X winning on Lightning Roulette. The streamer is completely overwhelmed with emotions during the game.
Video: 500X LIGHTNING ROULETTE WINS! HUGE PROFIT! Live Casino Games
More to Come Next Week - Stay Tuned!
Last week was full of breathtaking games. We covered the most dramatic events in the gambling world for you. However, we are eager to find out what kind of wins and losses will be brought to us next week. We'll keep an eye on all the major streams to share them with you in our next review.